Wrought Iron Heavy Duty Metal Kitchen Rail Organize Great Space Saving Solution Your Kitchen
Views:13 Author:Site Editor Publish Time: 12-31-2020 Origin:Site Inquire
Wrought Iron Heavy Duty Metal Kitchen Rail Organize Great Space Saving Solution Your Kitchen
| | |
| --- | --- |
| Product name | Wrought Iron Heavy Duty Metal Kitchen Rail Organize Great Space Saving Solution Your Kitchen |
| Material | Metal |
| Type | Simple design |
| Color | Black,silver,red,pink,green,blue,yellow,white and customized |
| General Use | Kitchen, bathroom, office, home office, living room, dining room, bar, super market, coffee shop... |
| Specific Use | Hanging towel, handbags, belts, umbrella, clothes and other things |
| Size | 43 x 2.5 x 3cm ( L x W x H ) |
| Weight | 0.3kgs/PC |
| Customized | Please consult us for customized products |
| Brand | H JINHUI |
| Place of product | Henan Province, China |
| Payment | 30% deposit via T/T, 70% balance before delivery |
| Delivery time | 5-7 working days after get 30% deposit |
| OEM / ODM | YES |
Charming Functional Convenient Sturdy Great look kitchen wall rack with 10pcs S hooks helps you create valuable storage space, can keep your pots, lids, pans and utensils in an organized way.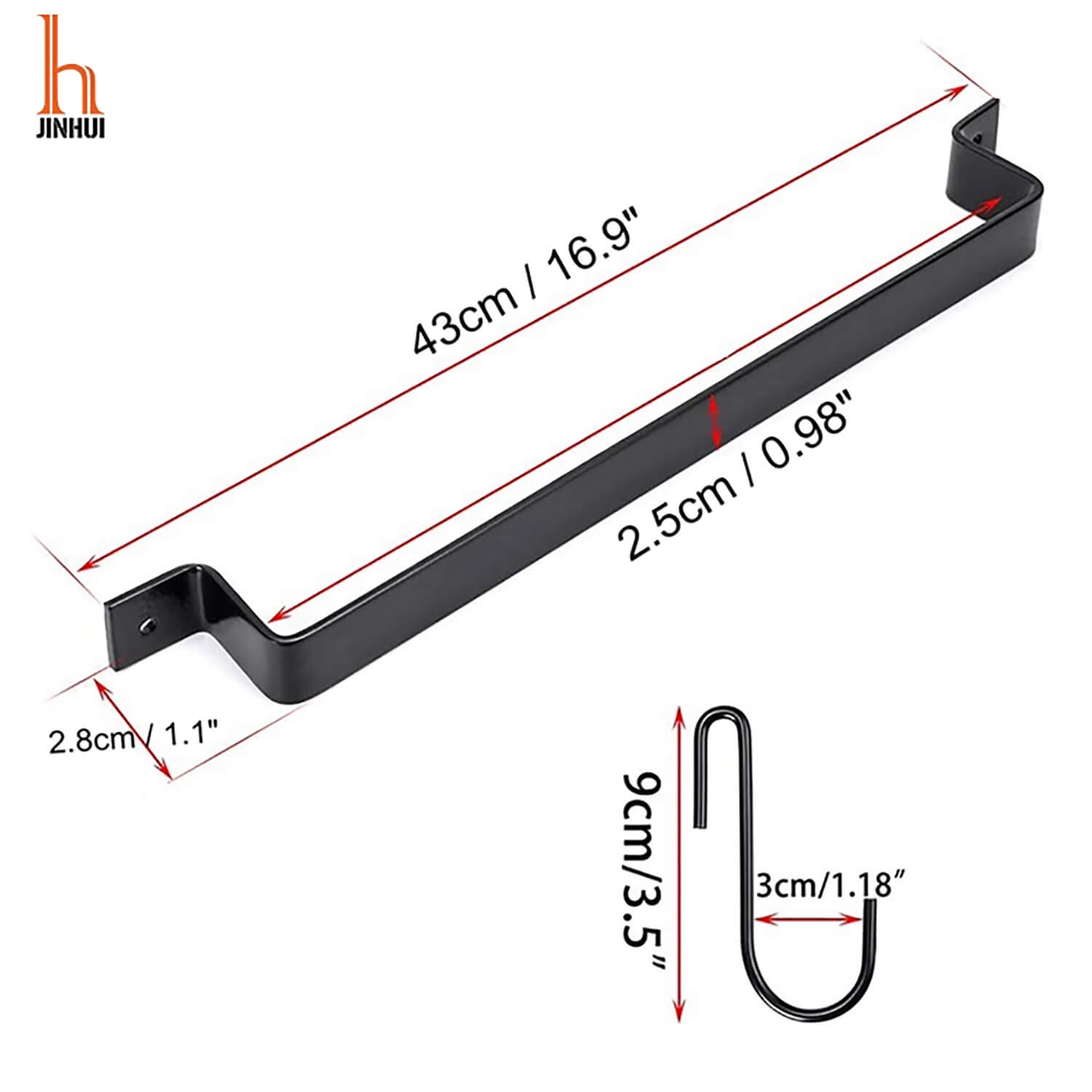 Thicker, Wider and Stronger - Designed with Quality & Durability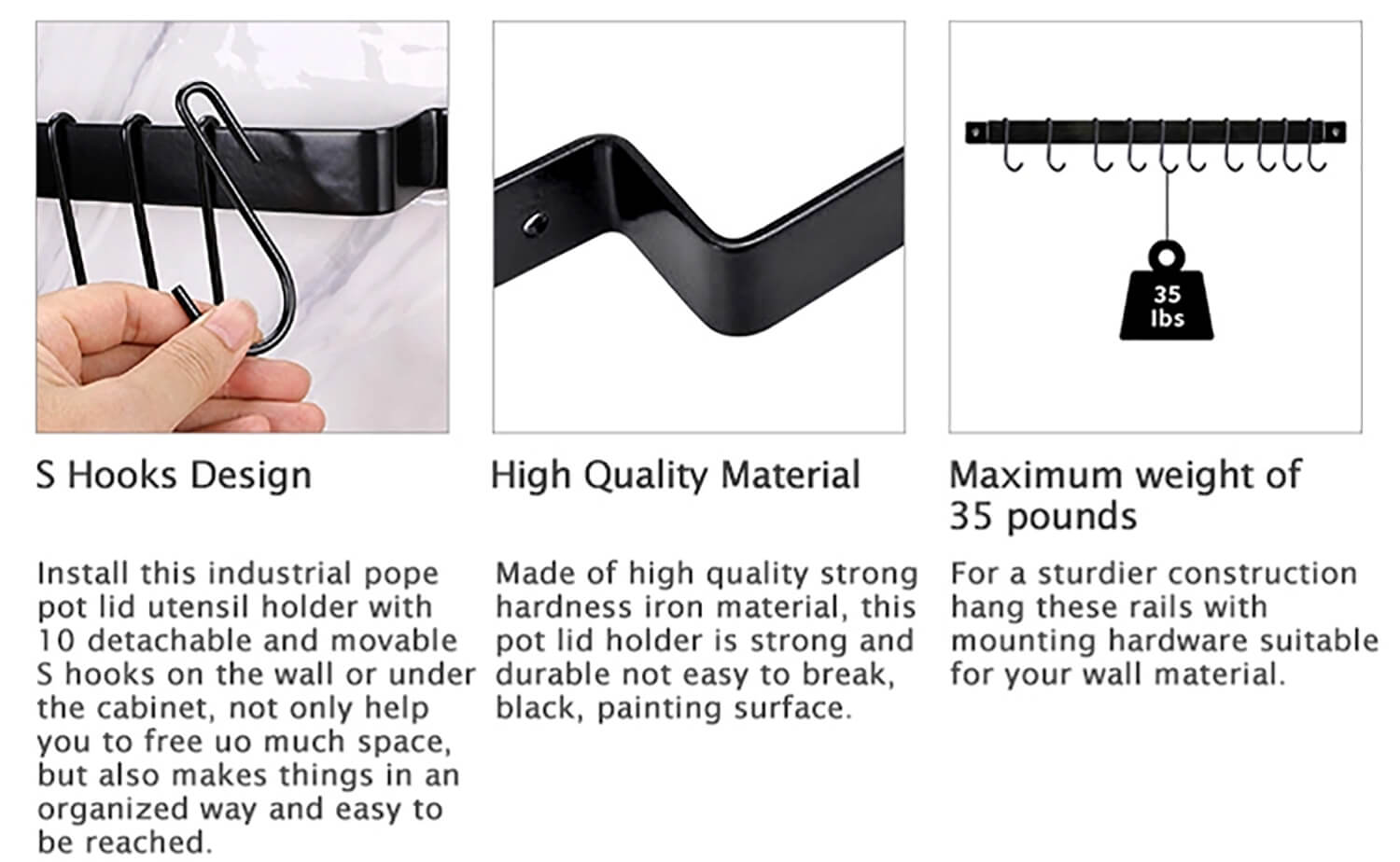 How to install this pan rack?
Prepare the tools needed: drill, marker pen, screwdriver, hammer.

Mark the position of holes on wall and drill holes with 6mm or 1/4" drill bit.

Hammer the plastic anchors into holes and install the raill and screws
What are the advantage of the Heavy Duty Metal Kitchen Rail ?
★ Rustic coating H JINHUI pot hanging rack is classy to match kitchen decoration
Pot rack hooks can keep your pots pans lids and utensils in an organized way
★ Save space
Slim simple basic great organizer metal rail rack with 10pcs S Hooks helps create valuable storage space, It was absolutely excellent.

★ Charming iron metal study material
Wrought Cast Iron Pot and Pan Hanging Rack with the strong hardness
Worth the buy perfect rack for organizing small garden kinds of tools, very functional.
Multi-purpose storage, where it can be used?
★ The rack looks and works great, you can hang coffee mugs from it on the backsplash behind your stovetop
★ Boyfriend has a lot of belts,there's no place to put, it would be the best choice
★ Lots of towels in the house,towels can be neatly placed there,the room was kept simple
★ Use this on the side of your kitchen cabinet for pot holders etc..it looks very cute and there are plenty of hooks to use. Very pleased

★ Hardware worked great to hang your cast iron skillets from on your wood planked wall in your kitchen
★ Solved your problem of hats dropping off regular holders and having to be repeatedly picked up and rehung