H Jinhui metal chair for outdoors
We can see that there are many kinds of metal chairs on the market.
Metal chairs have many USES, such as metal chair for restaurant, desk,garden,outdoor,office,living room,dining table and so on.
Different kinds of metal chairs have different USES. So Which one metal chair is suitable for outdoor?
Here we recommend H Jinhui wood-plastic metal chair for you.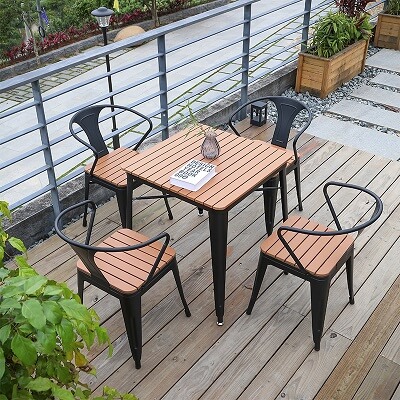 Why choose wood-plastic metal chair? Maybe first we need to know what is plastic wood.
Plastic wood, as the name implies, is a combination of solid wood and plastic.
It not only maintains the affinity feeling of solid wood flooring, but also has good moisture resistance, water resistance, acid and alkali resistance, fungus suppression, antistatic, insect resistance and other properties.
We can see that many outdoor buildings are made of plastic boards and metal legs.
| | | |
| --- | --- | --- |
| Outdoor buildings are made of plastic boards | | Garden chairs made by wood-plastic bords |
H Jinhui has two models of wood plastic metal chairs: Tolix type metal chairs and armrest metal chairs.
| | | |
| --- | --- | --- |
| Tolix Type wood plastic metal chairs | | Armrest wood plastic metal chairs |
Both of them adopt high quality plastic wood combined with 1.0mm thickened steel metal material,Match the corresponding size table.
We know that Plastic wood is a good material for outdoor. And the metal chairs leg from Hjinhui adopt 1.0mm thickened steel plate, very strong and durable.
H Jinhui metal chairs have undergone high temperature derusting, polishing, electrostatic spraying and other processes, Waterproofing, moisture, corrosion resistance, not easy to rust, make sure they can used outdoors for a long time.
So Hjinhui wood plstic metal chairs will be the best choose for outdoor use.
In addition, we also provide metal tables with plastic wood desktop.
If you want to buy for your balcony, or the area is not big open air balcony,you can choose the tolix type outdoor metal chair.
One table with two chairs will be enough for you, and It doesn't take up a lot of space.
You can use it as a metal chairs for desk, reading, chat, drink coffe, Coffee, sunshine, afternoon leisure.
If you have a garden or a big balcony, the armrest gardden metal chairs will be more suitable for you.
It have one table with 4 chairs, even you can choose 6 chairs,it will bring amazing party enjoyment.
You and your friend can have a dinner, have a barbecue or discuss things in your garden,Sit by this table and chair.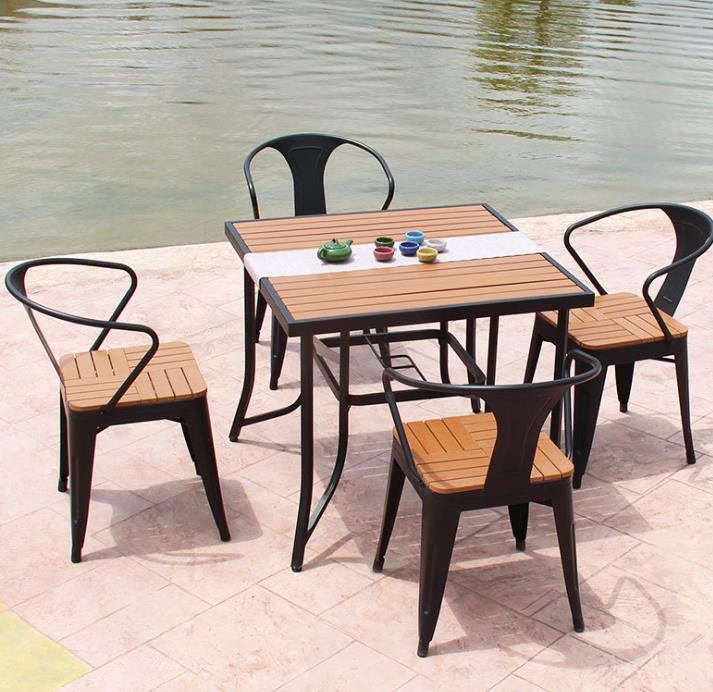 H Jinhui are a manufacturer of chairs more than 20 years.
We can provid customized service, all the sizes and colors can customized.
If you have any needs, warmly welcome to send email or inquiry to us!