H Jinhui Eames Type DSW wood plastic chairs Introduction
H Jinhui has many kinds of DSW chairs, only Eames, you can see 4 different styles on our website.
Today we will talk about 4 style Eames DSW chairs sell by H Jinhui.
1.Wood-plastic back and seat Eames DSW chairs.
This one is the most common plastic chairs in daily life. It is made of four wooden legs and a plastic backrest.
Very concise and easy, have Nordic amorous feelings extremely.
For household,It is Widely used in the living room, lounge, study or dining room.
For commercial, it is widely used in cafe, lounge,reception area,waiting area,the library etc.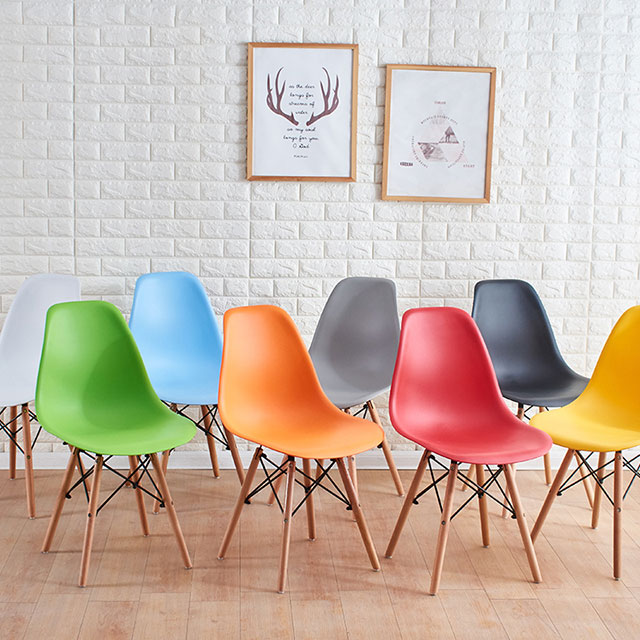 Because of its non-stackable nature, it is not suitable for leasing. If you want to buy chairs for leasingf, metal chairs might be a better choice.
H Jinhui Wood Plastic Eames DSW chairs made of PP material, to ensure that it is sturdy and durable, wear-resistant to beating,Trample without breaking.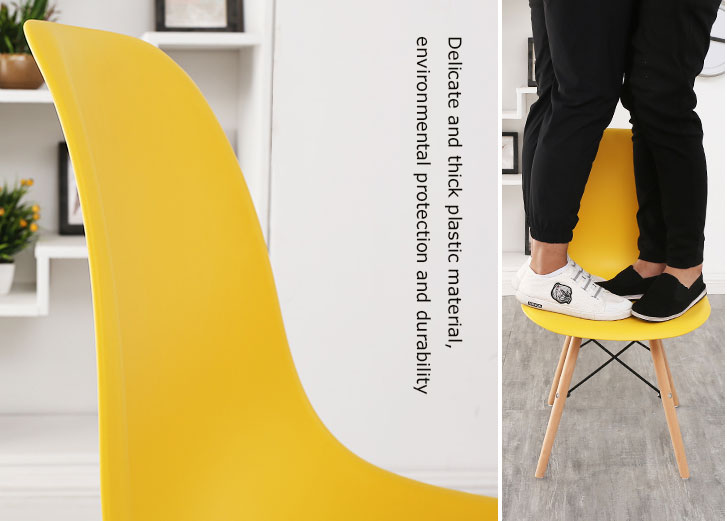 2. DSW chairs with PU padded.
This kind of chairs we also called tulip chairs.
It Looks like the First one Eames, but this dining chairs have a round PU cushion on the seat.
Which will be more comfortable than Eames chairs.
Besides, The wood legs of this chairs also different from the first one.
You can see it is has two opposite legs of the chair are crossed at the bottom and secured with screws.
They are available in a variety of colors and can be customized in any color and size.
| | | | | |
| --- | --- | --- | --- | --- |
| Tulip chairs with PU Padded | | Cross legs | | Multiple color options |
3.The third one wood legs chairs are the Eames with PU leather back and seat.
This chair looks exactly like the first one, The only difference is that the chair is partially soft.
You can see it is made by wood legs and PU leather,Multi - color optional, clean and beautiful,very comfortable for long time sit.
You can use them in your home, rest room, living room and so on, PU leather is very easy to clean.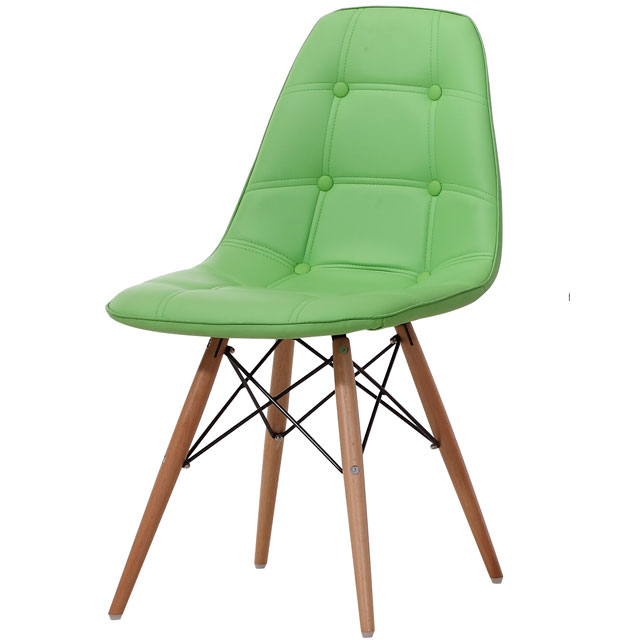 4. The last one also is a PU leather with wood legs chair.
You can see the back of it is very beautiful, looks like the butterfly wings. So we called it butterfly chair.
The legs of it is the same to the first one and the third chairs.
The PU leather of the back and seat is the same to the third chair.
They just have different shapes. If you want something new, you can choose them.
| | | |
| --- | --- | --- |
| Butterfly chair | | PU Leather of seat |
Above are our Eames series of chairs. If you don't know which one is right for you, Welcome to consult us,
We will give you our most sincere advice.
Email: info@hjinhui.com