Cross back metal chairs suitable for restaurants
Views:4 Author:Mona Publish Time: 04-28-2020 Origin:Site Inquire
This is a good feedback from old customers:
This customer is from Spain. he just came for an inquiry, don't know the chair style in his heart. He just told me that he wanted to open a restaurant. It was a little pastoral,he like it very much. He just saw this product in our shop so he came to inquire.
After inquiring, I realized that the tables have already been purchased. In fact, we also have various types of tables that can be matched with chairs. If you buy them together, you can choose the same series. But this customer has already bought some tables, all I need to do now is to select the most suitable chair (including color and style) for him according to the style of his restaurant and the style of the table he bought.
The table is made of wood and the color is matte black. The original picture sent by the customer is a bright color. I told him that the table is matte, and it will be more harmonious and more integrated with the matte chair. . Black is divided into glossy black and matte black. The color card of our factory is attached for comparison. The customer also thinks that the matt color is more graded under my recommendation, and finally chooses the matte black metal frame.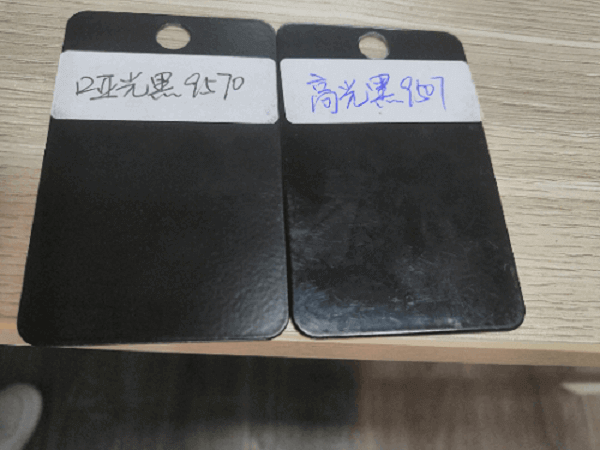 This type of cross back chair has a shiny metal seat and a PU seat cushion. Considering that it can give customers a comfortable experience in cold weather, customers prefer the PU seat cushion. From our PU color card, Customers feel that our quality is very good, they are more willing to cooperate with us.
| | | |
| --- | --- | --- |
| PU cushion | | cross back metal chair |
So we reached an agreement on the product, the overall design is matte black. In fact, we have not sold this design before, but we are willing to customize it according to the requirements of customers. Customers are also very willing to believe us, and they are willing to give us this order without seeing the same real shot.
Send pictures to customers after production, customers are very satisfied. After receiving the goods, he like our design very much, which matches his restaurant style.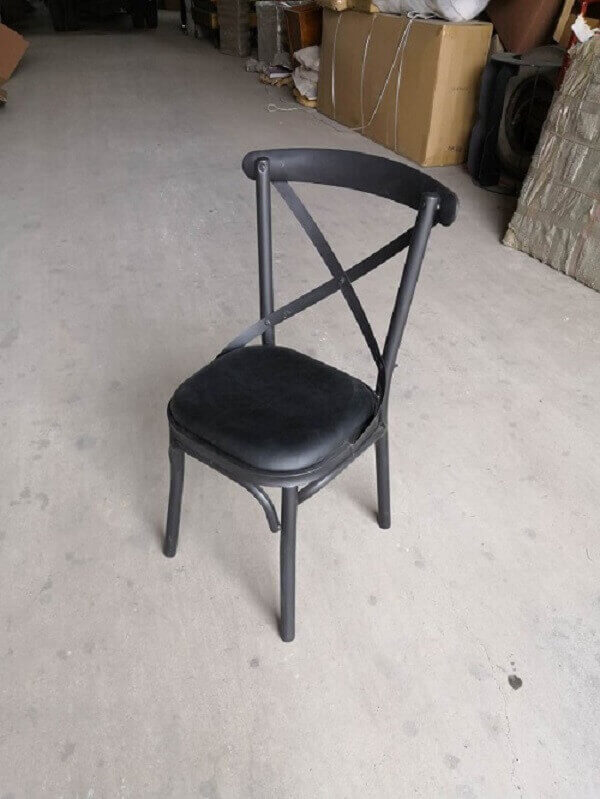 We are very pleased that our customers are very satisfied with our products, and yours will definitely be our biggest motivation.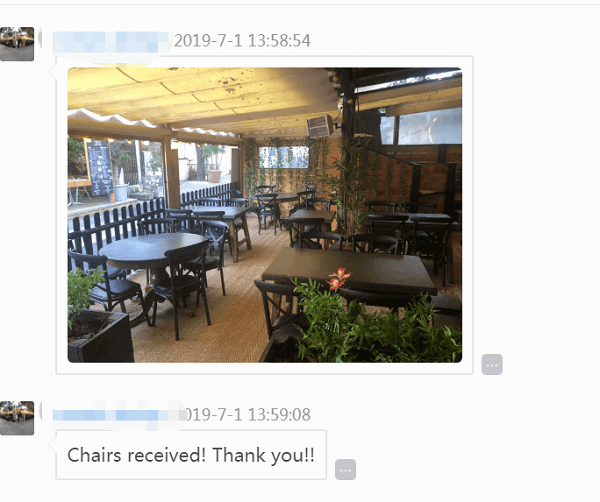 Are you also looking for chairs for your restaurant? Just tell us the style of your restaurant, we will choose the right chair for you, welcome your inquiry!