What Is The Best Classical Metal Counter Bar Stool For Your Kitchen ?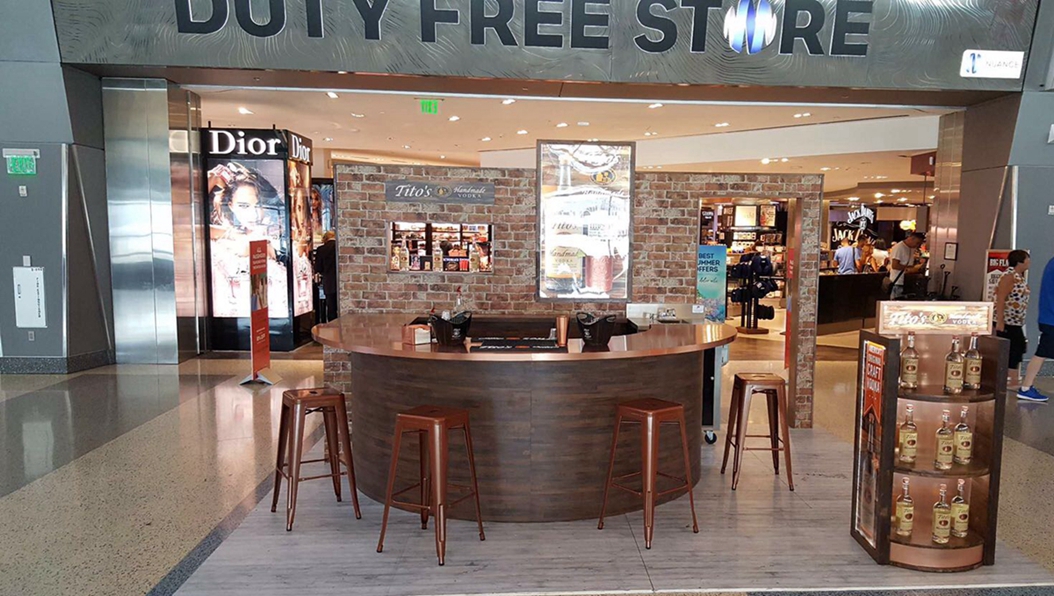 Classic and comfortable, the H Jinhui Bar Stool is perfect for your kitchen counter.
This stool has a backless design, making it easy to push under the table. It features an industrial style, which will instantly update the room.
Featuring a metal design, it is resilient to everyday wear and tear, allowing it to last for years to come.
This teal stool will add an elegant and delicate touch to any space. Thanks to its stackable design, this stool is easy to move out of the way whenever you need to save space.
It has a foot rest, so you can be seated comfortably with proper alignment.
Featuring a strong construction, it is a reliable choice for your kitchen decor since it will stay in good condition for a long time.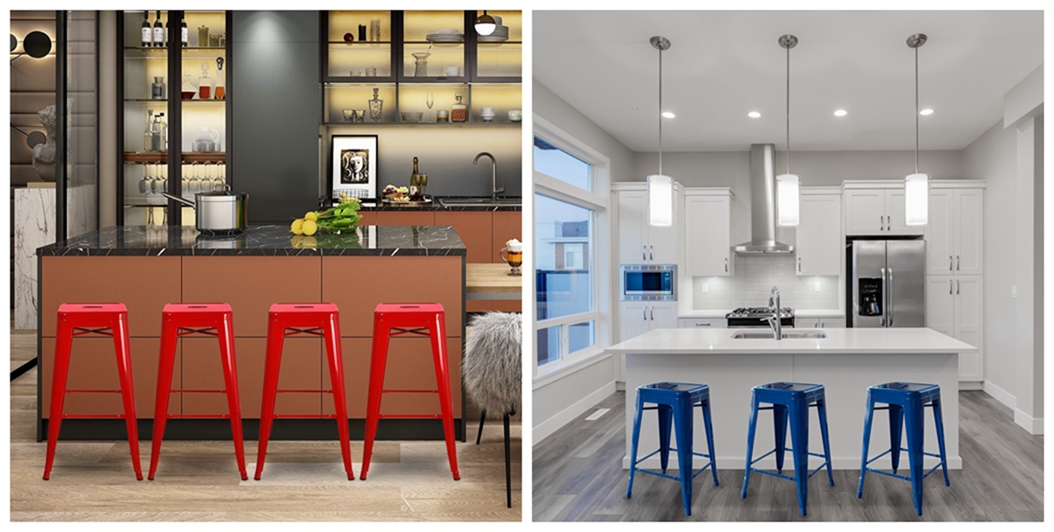 *Features:

· Comfortable footrest: The bar stools features four bars of footrest to support your feet when you are sitting and provide additional comfort and rest for you.
· Non-mar feet: The feet of Coffee stools can prevent from sliding and scratching floors, providing additional stability and protecting your floor from scratches.
· Heavy-duty & Strong: The iron bar stools are made of high-quality metal with powder coat finish and can bear the weight up to 330 lb.
· Space saving: Stackable bar stools are perfect for convenient storage when not in use. You can stack them up to keep them organized and save space.
· Suitable for all places: Stylish vintage design and gunmetal color are ideal for kitchen, shopping mall, kitchen, dorm room, shop or bar etc.
· No installation needed: These breakfast iron stools are simple and quick to use. You do not need to do installation because chairs are shipped fully assembled.

This barstool is crafted with industrial charm in mind. The 30" backless bar stool by H Jinhui is a great choice for its function and its look.
A square seat sits atop a well made industrial style body with 4 reinforced legs.
Made with superior metal and with a streamlined profile, these bar stools without backs are a perfect fit for the counter, the bar or the breakfast nook.
The lightweight design means moving or storing the bar stool when not in use or entertaining is not difficult.
The industrial style is reminiscent of French inspired bistro's and coffee shops. Add some modern seating and entertain in style with this set of well crafted bar stools.
H Jinhui is one of the leading furniture manufacturer in the home furnishing industry. Since starting our factory from 1958, H Jinhui has grown rapidly from a handful of furnishings to hundreds of selections to better accommodate the needs of today's growing families.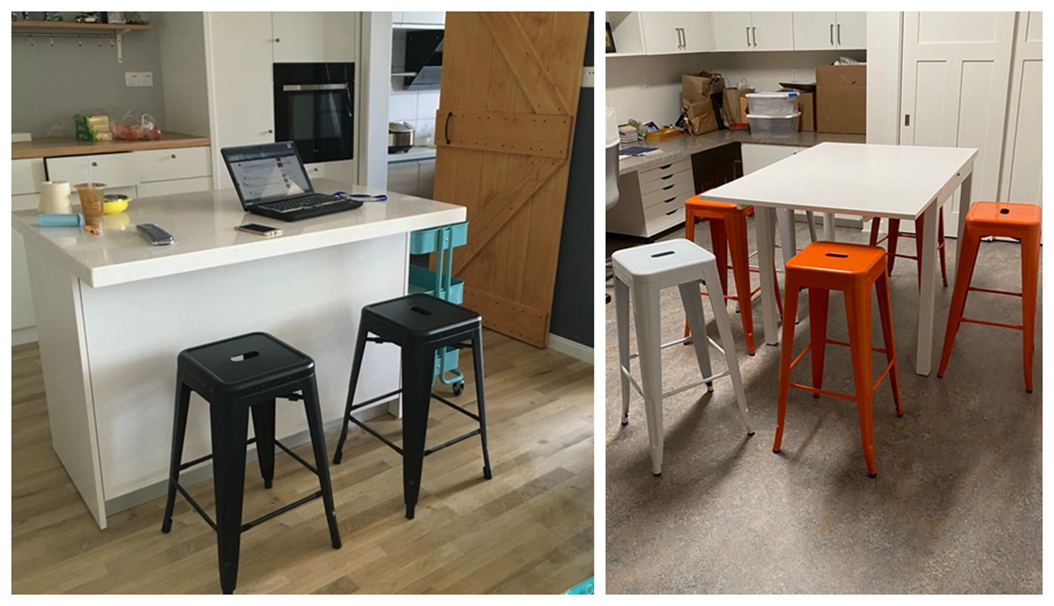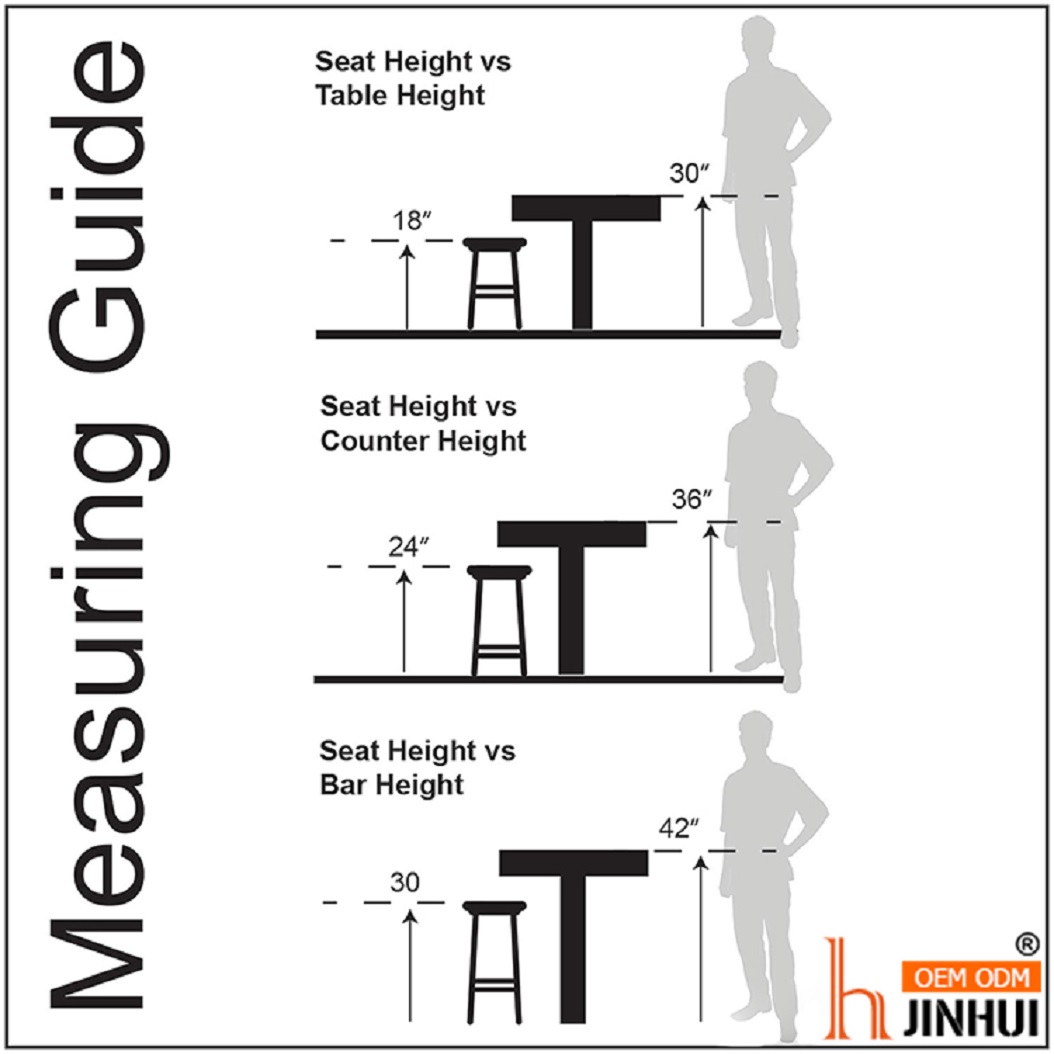 ---
Customer's Feedback :
1: I just adore these stools! I thought about it for months before making the purchase - it would be no small task to return them, after all.
But they are perfect. Some of the things we were concerned about and how they worked out:
Comfort - We thought metal stools with no backs might not be comfortable, but they are. People choose to sit on them over our wooden chairs almost every time.
My kids love them.
Hole in the seat - We thought this might add to discomfort, but you don't notice it while sitting and it's become my favorite feature
- I can easily pick up the stools with one hand and move them for vacuuming, etc.
Sturdiness- These things are lightweight but not at all flimsy.
We have some larger people in our family, and everyone feels completely safe sitting on them.
And they haven't once toppled over, even with four wiggly kids using them multiple times a day.
Feet- I was worried about the stools scratching my floors, so I put felt pads on the feet, but they kept falling off. Finally gave up and realized that the rubber feet are perfectly safe for the floors. And, they don't slide when you try to sit down.
Color- What can I say, the color is just gorgeous! Exactly what I wanted.
Price- I still can't believe I got all four of these for this price. It was the best purchase we've made for our new home - we've gotten so many compliments!
Hopefully that addresses some concerns that others might have! Buy these... you won't regret it!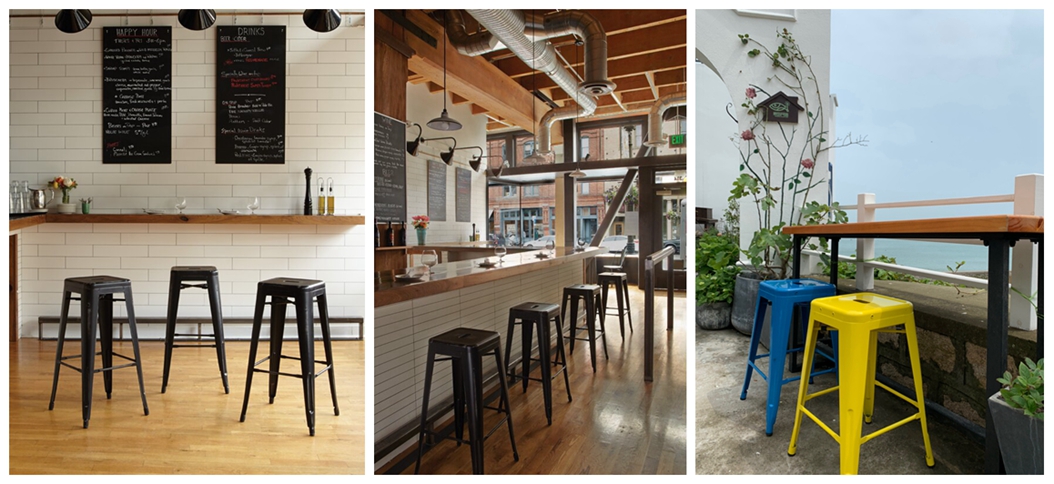 2: Absolutely love the stools. It is great quality for the price. I saw the same stools in hobby lobby and walmart with higher cost. I appreciate a great deal as I'm always looking to save. The color is rich. The material is thick. No rust, no damage. Came packaged very well with foam wrappings stacked on top of each other. No dents found. The height is a great match for my counter tops. I would definitely recommend you purchasing. The shipping was fast especially for the holidays. It arrived when it stated it would. As far as comfort who would expect a metal stool to be soft on your buttocks.