Storage is an attitude towards life. You need a dirty Clothes Basket !
Views:13 Author:Site Editor Publish Time: 07-24-2020 Origin:Site Inquire
Storage is an attitude towards life. You need a dirty Clothes Basket !
Are you still worried about the mess in your house ? Don't be afraid of that, Because we have new upgrade frame multi-lattice dirty laundry basket.
Usage: Laundry basket are mulit-function storage, it's easy to solve the messy problem of dirty clothes.
Simple and elegant, high appearance level, multi-function storage function, clothes, toys, towels, sundries, you can storage anything you want.
It's also suitable for a variety of occasions. Such as Dormitory saves space, Balcony laundry helper, living room collection assistant and so on.

Humanized three-compartment design, can be used to classify clothes, such as dark and light colored clothes, outerwear and underwear, so that we can live a more healthy life. Underwear small items nowhere to pile up, multi-layer storage basket, easy to help you slove problems, let the storage orderly.

Material: It's with waterproof polyester Oxford cloth, durable, wrinkle resistant, wear resistant, easy to clean, even dirty, can also be washed with water or dabbed with water gently wiped clean. And the aluminum alloy is used as the bracket, which is light in texture and not rusted, it can be disassembled when not in use, easy to install and can be folded for storage. Durable adhesive buckle is selected, easy to operate, easy to disassemble and fold, durable and can be cleaned and used repeatedly.
Details: The design of polyester mesh bag with thick bundle-mouth, plastic lock head, frosted texture, durable and free to pull and shrink, encrypting coarse mesh, anti-deformation, wear resistance. And with black angle joint, PP new material, it's with high bending resistance.

This lanudry basket with foldable design, folding and unfolding, easy to store, easy to clean, firm bend, stronger load bearing, folding can saves space, very easy to take and put. And the detachable aluminum frame greatly reduces the volume, reduces the logistics transportation cost, improves the transportation safety, and is not easy to be damaged.

Comparison of dirty clothes basket ! If you have one dirty Clothes Basket ! with it, dirty clothes do not throw away, compartments, clean and neat.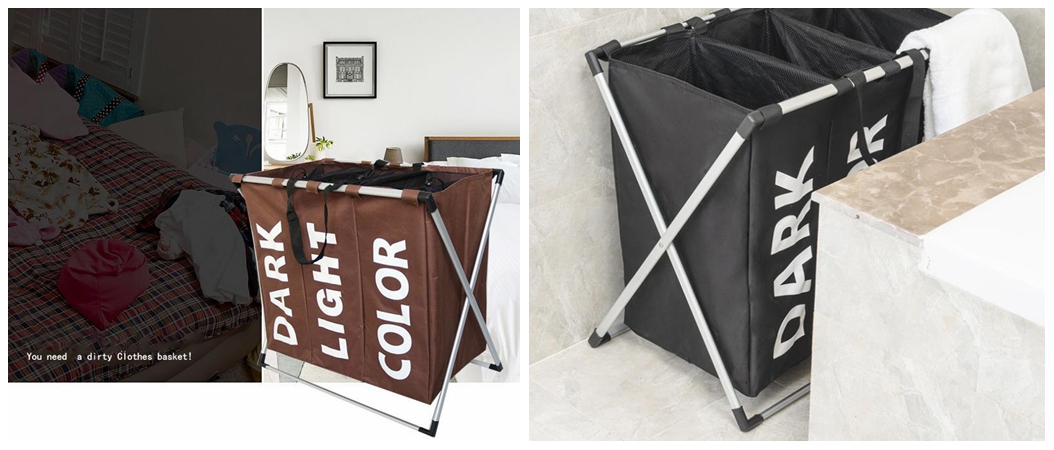 If you want get it, Pls feel free to contact with us. We'll be always at your service.